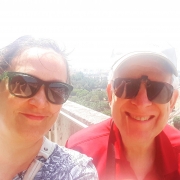 "Patricia is a special gem of a person. She organized an unforgettable tour of Lisbon for us last Fall. She arranged a sunset sailing cruise which was very memorable. We also got to see wonderful Fado singers in a very intimate setting.
Patricia knows restaurants that we couldn't find if we had the best GPS on earth. We ate delicious local food and wine which added greatly to our experience. My wife suffers from early dementia and Patricia was so kind to her, accommodating our program to her every way she could.
In short Patricia is a very intelligent, organized and caring individual. We have such fond memories of Lisbon thanks entirely to her."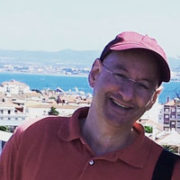 "Let me put this way: if Patricia offered curated tours of New York, a place where I live and know extremely well, I would not hesitate to use her service on a regular basis. She is that good. Her warm, enthusiastic and expert guidance enabled me to connect with the heart and soul of Lisbon and it has become one of my favorite cities in the world."

"Our weekend was made so special taking advice from friends to take a walking tour with Pats. Wanting to get a real local sense of Portuguese life, culture art and music. Pats opened a Pandora's box of an incredible insight and vast knowledge of history and hidden gems.
I'm so glad we booked 2 days as we really enjoyed Pats company. Leaving us with having given us a real insight into the soul of the city of Lisbon.
My husband is a lover of museums. Here Pats showed us a young vibrant feel of architecture Museu Calouste Gulbenkian. I love music, which wafts through the streets, bars and restaurants. Each night playing host to the performance of Fado a uniquely traditional form of Portuguese song.
We will return and meet up again to walk with our now Portuguese friend Pats who's local passion and love of this beautiful city of  Lisbon.
A lasting memory, hoping I find a 'Pats' in other cities of Europe I intend to visit."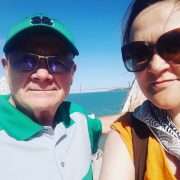 "Thanks so much for the wonderful day touring Lisbon. Pats' knowledge of the town is incredible. I especially liked the Moorish house she brought me to off the main street. It was wonderful and unlikely to be included on most tours. I would do it again without hesitation."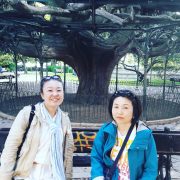 "In my pedometer, I walked 14,824steps during our half-day tour. By my each step, I felt affinity with Lisbon.
Let me call your tour, "BURA-PAT". One of my favorite TV programs in Japan, "BURA-TAMORI", a very popular TV-show. TAMORI, the Japanese star comedian walks "BURABURA" various cities with a historian and a topographist and discover new attractions of the cities. "BURABURA" is an adverb, a Japanese onomatopoeia means wandering around without any goal or purpose. Walk "BURABURA" means walk around or hang around, but in this program means "walk freely, according to your interest."
Like this program, your tour is full of eye-opening discoveries and carefree, relaxed atmosphere. It was a joy walking "BURABURA" with you!"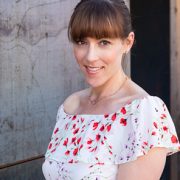 "Pats was an excellent tour guide. She is very knowledgeable about the history, the architecture, the food and the culture. Pat was also very flexible and willing to accommodate the tour to fit my interests and needs. I only had about 4 hours of free time in Lisbon, and Pats really helped me make the most of the time. I arrived on a red-eye flight, and I appreciated her willingness to adjust the time of the tour so I could get a couple hours sleep.
Once on the tour, she did a great job of organizing it so we could see a lot of things in a very short time. In four hours, I definitely got a good sense of the city. I especially liked the time down near the water front and seeing many of the major monuments in the city. Although 4 hours just isn't enough time to see everything, Pats did such a great job coordinating our stops and was very tentative to ensure I was getting my needs met the entire time.
If you're coming to Lisbon, I highly suggest you set up a tour with Pats. I really loved her flexibility and willingness to customize a tour to fit your individual interests and needs."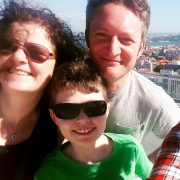 "Thank you so much Pats for a day I will never forget.
Experiencing Pat's unique tour of Lisbon has finally opened my eyes to this amazing city and culture.
My request to Pats was to 'feel' Lisbon – now I get it and would recommend Lisbon as a world class city to visit, but without a doubt this was enriched by Pat's knowledge of Lisbon, especially its history. Pat's crafted her tour to our requests, rather than your bog standard tour or gimmicks, it was a new experience for me that she listened and worked out what we wanted to see and how much detail interested us or not.
Then she added a range of suggestions and gems to consider – a totally personalised experience. That's why it was special. Pat's is passionate about her city and wants to share its wonders.
I have to return!"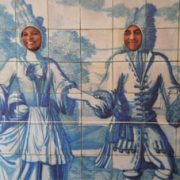 "It was our first time in Lisbon and Patricia helped to make it all more memorable. She is an amazing tour guide with great character and sense of humor, flexible, and knowledgeable.
Patricia planned our trip to Lisbon from start to finish and it was amazing. In the beginning of the planning process, she asked for what we wanted to experience in our visit and tailored the trip to our needs and desires. She gave us very helpful recommendations and suggestions followed by the creation of an initial itinerary for us to review. The hotel she suggested to us was great and restaurant recommendations were superb!
Thank you Patricia to help us to have great time in Lisbon!"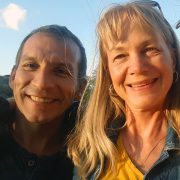 "We had a memorable afternoon in downtown Lisbon with Pats. She is a massive source of local knowledge about the history, culture and current trends in both the capital and the country. She showed great sensitivity to our interests and needs (always finding a suitable 'watering hole' when necessary!) and the afternoon literally flew by, ending with a well-deserved drink in a beautiful bar in the Alfama. Her passion for where she lives and what she does is infectious and only our sore leg muscles the next day reminded us of just how much ground we had covered!!!"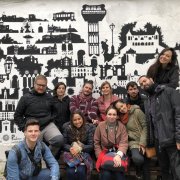 "In the afternoon we met with Pats. She is a local and took us to all the hidden gems in Lisboa. It was great to walk around the city with someone who knows the city secrets and the hidden spots that a regular tourist might miss. We walked for a long time through the small alleys full of stories and every stop felt like a scene taken out of the movie."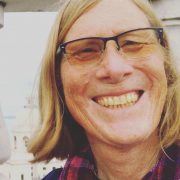 "This was my second time in Lisbon and I wanted to know more about the history, monuments, and food scene. I filled out the easy questionnaire that Pats emailed to me, and she tailored the half day tour perfectly. She has a deep knowledge of the history of Lisbon, and she was very good at pacing the tour and clearly explaining what she was showing me. I could not ask for a better tour or tour guide. I highly recommend taking a tour with Pats, it is worth it."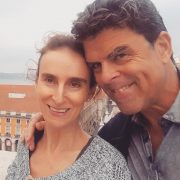 "After close to 22 hours of travel time, full of delays and airport transfers, we landed in Lisbon and were welcomed by not only the most professional, knowledgeable, easy going and thoughtful Pats, but also the most patient, competent and original guide in her approach. Lisbon is a fascinating city, and to experience it with Pats was a particular treat. Many thanks for taking such a great care of us. We will be back!"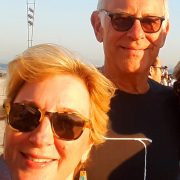 "Excellent tour guide. We couldn't ask for more… Pats was warm friendly and very helpful. We would highly recommend Pats to anyone visiting Lisbon. She made us fall in love with Portugal and its people. Pats keep it up."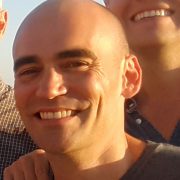 "My family and I did a half-day tour of Lisbon with Pats that spanned several neighborhoods and sites.
She definitely knew her stuff-table stakes for a tour guide. But what pushed her into five star territory was the passion with which she shared her city. Hard to describe, but you could tell that after years of living there, she remains enchanted, excited, and proud; and that's contagious.
I'd highly recommend spending some time with her and, if you do, spending some time upfront discussing what you'd like to see and learn about."
"Patrícia is friendly, has a great sense of humor and Lisbon and the Portuguese history do not have secrets for her! Me and my group really enjoyed our tour and highly recommend her to everyone willing to know more about the Portuguese capital and have great moments. Obrigada, Patrícia!"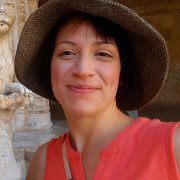 "My cup of tea!
I enjoyed touring Lisbon with Pats for several reasons. It was my first time visiting Lisbon and I had no clue where to start from. Luckily I reached out to Pats and she was able to accommodate me for a half day tour on a very short notice. I love sightseeing by walking and the tour worked perfectly for me.
Pats showed me around the central part of Lisbon and she extensively told me about its history. Pats is very knowledgeable and I definitely don't think I could have learned so much about Lisbon on my own. I liked it so much that I booked another half day tour the next day to see the Belém Tower and Jerónimos Monastery – I just knew I would benefit more than by going on my own.
I would definitely recommend Lisbon with Pats, especially if you are in town for a limited time and still want your trip to be memorable!"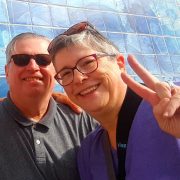 "Tiles of Portugal!
I have a passion for the ceramic tiles of Portugal, and Pats was able to tailor a tour for me and my husband that took us to beautiful museums that I had never heard of, with collections that were stunning and satisfied all of my tile lust! I cannot tell you how happy we were to have her as our tour guide, and we would strongly recommend her to anyone who wants to have an in-depth personal tour of Lisbon!"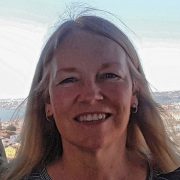 "My husband and I just returned from 10 wonderful days in Portugal. The first full day began with a tour with Pats, which was the perfect introduction to Lisbon. Even though she had very little notice, she took us on a perfect tour, suited to our tastes. She knows the city and its history well and shared this with us as we visited sites. Pats was wonderful company and helped us get develop a comfort level with our new surroundings. It was like spending a day with a good friend! Thank you, Pats!"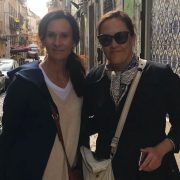 "Tour of Lisbon
Fantastic. Pats is so knowledgeable, warm and welcoming. She will structure the tour to you interests. I will definitely use again. I learnt so much and had a wonderful time. Thank you, Pats!"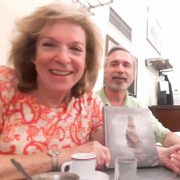 "Pats is not your typical tour guide.
Before your tour, she contacts you to learn what you want to get from your tour, and then customizes your experience to ensure that you get exactly what you are looking for during your time in Lisbon.
In our case, we wanted to see major Lisbon tour destinations and learn their historical significance as well as their eventual impact on the city today.
Pat is a highly intelligent Lisbon native who constantly provided these insights.
Her international travel experience also provided useful perspectives on how Lisbon compares on a global basis.
Pat is very personable with a good sense of humor. She is proud of Lisbon and her passion for the city helps create a very enjoyable time.
She is very flexible and makes the experience more like a day hanging out with a friend, rather than a forced march through rigid tour schedule.
I highly recommend Pats. Your time with Pats will be very well spent."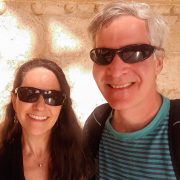 "A fantastic day in Lisbon with Pats!
We spent a fantastic day seeing Lisbon with Pats! She created an itinerary that was perfect for our first full day in Portugal and her knowledge of the city and country's history is extensive. We visited places that we wouldn't have found on our own, and her perspective added so much to the experience. There's so much to see in this beautiful and historic city, so we know we'll contact her again the next time we're in Lisbon, to see the sights that we couldn't fit in on this trip. We had a blast with Pats!"
"A journey through history and experiencing beautiful views of Lisbon
I wanted to make it an extra special trip to Lisbon with my family and planned our first day with Lisbon with Pats! We said our interest was to visit cultural places and learn more about the history of Lisbon. Patricia not only personalised a plan way before our trip but guided us through a walk through time with engaging stories for the whole family to understand.
In-between our trip together, we stopped for a cheeky shot of liquor, egg tarts, a drink at a rooftop and introduced to a lovely restaurant for dinner where we had a heartwarming bowl of fish stew! I'll definitely recommend Lisbon with Pats for anyone who is travelling to Lisbon! Thank you Pat for a memorable tour!"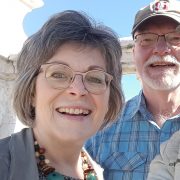 "A great introduction to Lisbon!
We booked Pats for two, half-day tours when we arrived in Lisbon to help us get our bearings. We couldn't have chosen a better guide. Pats had contacted us ahead of time to find out what we wanted and what our preferences were. She tailored the tours to our wishes and was very flexible, stopping for rests when we wanted and suggesting changes in the middle of the tour when we expressed certain interests. Her knowledge of history and culture is astounding; we learned so much!
Pats also took us to places we never would have found and also to private places we wouldn't have gotten into. She also made notes for us for suggestions as we continue to travel around Portugal and these have helped immensely. Thanks for an amazing introduction to Lisbon and Portugal, Pats."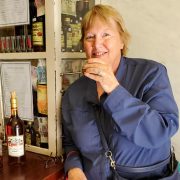 "Pats helped me with food finds in Lisbon
I emailed Pats with my specific half day tour plans and she fulfilled my list! Since I concentrate on food, she had a tour planned to try the highlights of Lisbon's foods. We visited a market where locals shopped for produce, meats, fish and breads. All beautifully displayed. Next we took the metro to see the different art and tile work in the metro stations and exited close to a cheese shop. We sampled cheeses and crackers and I learned the history about dried cod fish which is plentiful in Portugal. On to a small shop which sells shots and bottles of their sour cherry liqueur which was fun and invigorating. Of course, custard tarts are a must to eat throughout the region and that I did on our route. We ended with lunch at a neighborhood cafe and dined on typical Portuguese foods. The tour was well organized and Pats worked with my needs, making it an enjoyable time."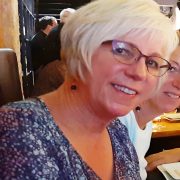 "Walking Tour of Lisbon with Pats
We loved our recent walking tour in Lisbon with Pats. There were four of us, staying in the Chiado neighborhood, and she met us right outside of our rented apartment. She worked with us to customize a four hour tour, covering the highlights of Lisbon and neighborhoods near us.
Along the way, we stopped in a former convent, visited a small shop that is "the place to buy the famous Lisbon tiles" or azulejos, and enjoyed a drink of ginjinha at one of Pats favorite little places, to mention a few. Pats is extremely knowledgeable and likes to show her customers an "insiders" tour of her home town.
We ended the tour with a special wine and petiscos (appetizers) tasting at a popular wine bar near our apartment, a place that Pats picked out. She stayed with us during the tasting to ensure that everything went as planned. The afternoon was delightful! I highly recommend her!"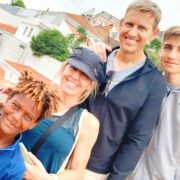 "Lisbon with Pats was a fabulous intro the city!
Pats was perfect for us. We are an active family with 2 boys, (ages 11 and 17). With our short-attention-span kids, we like half day tours and we did two: 1 focusing on western Lisbon/Belém and the other for historic Lisbon/ Alfama. They were both very well thought out and fantastic.
What's really special about Pats is that she gets a lot of information about your interests/tastes, general tour goals and travel style before she puts together a very personal itinerary.
It was also great because while we covered a lot of ground and learned a good bit of history, we also did a lot of fun/active things, stopping for special treats and snacks (custards in Belém and sour cherry liquor in Alfama just to name a couple), popping into castles, and riding the tram. We honestly wouldn't have known all the treasures that surrounded us had we not toured with Pats. Highly recommend."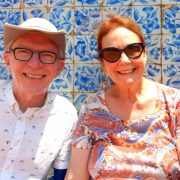 "Our tour with Pats was a great overview of the part of Lisbon where we're staying (Alfama), plus interesting side trips into neighborhoods that are close by. Walking around the city now, we are surprised by how much ground we covered during the tour. Not only that, Pats informed us about things we wanted to see more of, things we should avoid, and gave us insights into the history and culture of Portugal.
After the tour, we felt the beginnings of being comfortable being in the city, which is exactly what we wanted."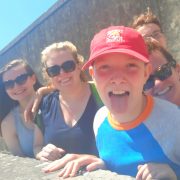 "WONDERFUL, AMAZING, family friendly tour with Lisbon with Pats
Our family of 2 adults and three teenage children spent a wonderful 3 days with Pats. We had a variety of interests and wanted to see architecture and art, learn about history, and taste Portuguese food. Pats created a personalized plan for all three days, coordinated all of the trains, cabs, and walking directions. She was very knowledgeable about the history of Lisbon, very friendly, and our whole family loved her!!! She made our time in Lisbon wonderful!!!"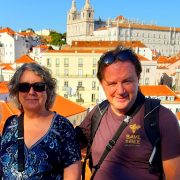 "A terrific time in Lisbon
Pats is a wonderful guide, filled with knowledge and love of Lisbon! She is a generous, warm, and funny gal with great insights. We will definitely go with her again!"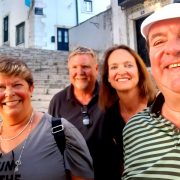 "Fabulous customized tour!
I have never taken a private tour and wasn't sure what to expect. When we booked the tour, Pats sent us a questionnaire asking what we hoped to see on our tour. There were 4 of us, so Pats made sure to touch upon each of our interests. We visited places that are usually not open to the public. I have breathing issues, so Pats made sure to choose routes that would not tax me too much (hard to avoid hills in Lisbon!)
Pats is very personable, very knowledgeable and obviously loves what she does. I can't recommend her enough. I wouldn't hesitate to hire her again to get the inside scoop of this incredible city. Thanks, Pats!"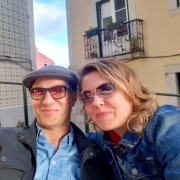 "Made our short trip worthwhile
Pats was an incredible guide. Her English was great, the selection of things to see and the options for delicious things to try was excellent. The pace was perfect and we enjoyed her candid answers and sense of humor. I feel like this tour allowed us to make the most of a very short trip to Lisbon and we have such a better appreciation for the city. I would absolutely recommend her."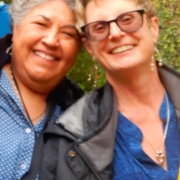 "We spent a lovely afternoon/evening with Pats
It was truly the highlight of our trip, which included many tours and excursions in various ports in Spain on a 9 day cruise, which ended here in Lisbon. Her obvious enthusiasm and in depth knowledge of the city was shared freely and made for a delightful experience! Not only did she spend far more time than agreed upon, she took us to a great restaurant so we could enjoy dinner like locals. On the day after our tour, she also shared information on places to shop, dine and even made arrangements for us to see a Fado show in the Alfama. I truly cannot image a single thing that could have made the tour any better. She was simply amazing!! "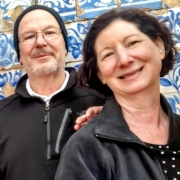 "We spent a fantastic day in Lisbon with Pats
There were four of us and she really made us feel as if we were her family that she was taking around her hometown. Her personal approach allows her to tailor the days agenda to your interests as well as allow for changes as the day progresses. She took us to places that we never would have discovered without her guidance and her knowledge of the city and Portugal is extensive. We would highly recommend that you contact Pats for your next trip to Lisbon!"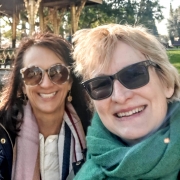 "Interesting and Gorgeous!
Pats was so much fun to be with. She really expanded our knowledge of Lisbon and Portugal in an interesting and entertaining way. We are very grateful for her service."
"An outstanding day in Lisbon with Pats!
I came across Pats name on a Portugal FB page. I was impressed with all the positive reviews, so contacted her. She responded immediately, and sent me a short questionnaire to get a sense of what I wanted in the tour. She then put together an itinerary, and made herself available for any questions. We spent a generous "half day" exploring the many different neighborhoods and hidden gems of Lisbon. I hate crowds, and Pats took me off the beaten path and gave an excellent glimpse into the heart and soul of Lisbon, as well as the more notable areas. All through the tour, checking in to give me options, and if I needed a rest! Pats is so very personable, and her wealth of knowledge is amazing! I highly recommend booking with Pats to get your Lisbon stay off to a good start!"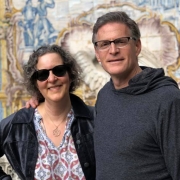 "Knowledgeable and wonderful guide
Pats had been recommended to us by a friend, and she did not disappoint! Every interaction we had with her (by email, What's App, and in person) was professional, informative, and fun. When you book your tour, Pats sends out a questionnaire so that she can tailor the tour to your needs, so it never feels cookie cutter, but rather very personal. When Pats tells you information, it never feels rote, always fresh. She clearly loves the city, and knows an incredible amount of information about Portuguese history, culture, and lore, all of which she ably imparts during the tour. We loved our time with her! And best of all, we stayed in touch with Pats after the tour and she made some wonderful recs for our time in Porto, and happily answered any questions we had about Lisboa during our stay. We HIGHLY recommend Lisbon with Pats."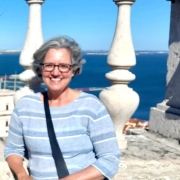 "The best way to experience Lisbon. Period!
What a treat! A private tour with Pats is a fantastic way to not just "see" Lisbon but to truly experience it with a local. We are Americans who moved to Lisbon a few years ago. We know a lot and have seen a lot, but based on following Pats on social media I knew we would learn so much with her. It was a great day. We had a blast. Pats not only knows plenty, but is darn lovely to hang with. What makes Lisbon with Pats special is that she asks a lot of questions ahead of your tour date to make sure she builds a customized tour based on what you want, and she wants to know what doesn't interest you. It is truly a customized experience. Treat yourself–you'll be so glad."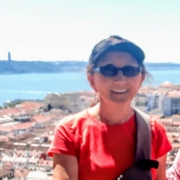 "Pats has full knowledge of the history of Lisbon. She has a warm, generous, and caring personality.
My friend and I had a walking tour in Lisbon. We were shown some hidden gems, that we had never noticed or overlooked in the past. We had fabulous time and re-learned Lisbon is such a beautiful and interesting city. The views from the Castelo de S. Jorge were special. We recommend her without hesitation."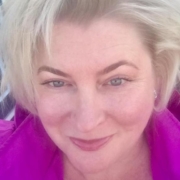 "Since the pandemic started, I've still managed to travel!
First it was to the Faroe Islands with a group of friends in NY and London for their fabulous weekly virtual tours….and now we have now discovered Pats Madeira who has been whisking us away each week for an hour tour through the different neighborhoods of Portugal. We just booked our fourth week and can't recommend this enough!
It's simple to set up…she's very accommodating on what you want to see and it's a ton of fun…best of all Lisbon is a city of 8 hills and you don't have to walk up any of them as Pats does it for you! Grab a few friends and book an hour escape!"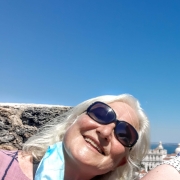 "Such a great tour with Pats
I've just moved to Lisboa and my friend is already a resident here. We've been following Pats for some time and decided that even though we are "locals" now, we wanted a tour to learn more about our new home town!
Pats did not disappoint! We learned a lot and had so much fun. Nothing like a local guide who knows her stuff. It was also special because Pats made a real effort to customize the tour to our interests. Wonderful and professional! We look forward to the next one."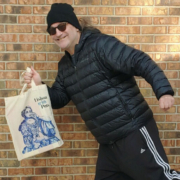 "It's been a wonderful escape!
My friends and I have been touring live with Pats multiple times over the past few months. Pats is funny, charming and super knowledgeable. Sometimes we use her Lisbon itineraries, but a couple times now we have asked for something a little more bespoke. On our tour this past week, we asked Pats if she would take us on a Lisbon Christmas lights tour. She did, and she knocked it out of the park. Lots of beautiful holiday lights, a visit to the bakery for traditional Portuguese holiday pastries, a trip through one of the Christmas markets and the history of Christmas in Portugal!! We just loved it!!"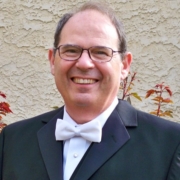 "Thank you, Pats Madeira, for an outstanding virtual tour visiting the sites around Belém and the memories of the great navigations and navigators. We appreciated the nice balance you gave between the aesthetics, the landmarks and History. Being unable to be at this time in Lisbon, you made the place very real and we felt like being there. Looking forward to the next tour/visit. Hopefully soon we will meet in the Alfama!"
"Thank you for another outstanding virtual tour.
The Alfama visit was wonderful. The combination you provided, showing the nicest spots with beautiful views, the architecture and History, in addition to the key touristic features, was the right dose. This was a well balanced visit to explore the neighborhood. Finishing the visit by seeing Saramago's museum was remarkable. We thank you with a short and huge citation of the author: "Each day is a little bit of history"."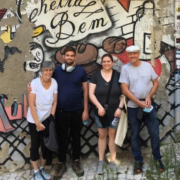 "We enjoyed the Castle of St George & Graça District Tour with Pats. We got to skip the line at the castle and enjoyed beautiful views and learning about how the Castle was built upon a Moorish foundation. In the distances saw Cathedrals, the Vasco da Gama bridge and so much of the city. We also walked through many of the Graça Hill neighborhoods and saw the wonderful individuality of each neighborhood. Pats gave us such great information pointing out both the history and beauty that we were walking through. If your looking for a great private tour with someone who knows and loves Lisbon you should definitely contact Pats. We give Pats five stars!"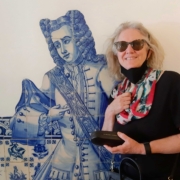 "I took a tour with Pats that was beyond amazing. Just the two of us, walking walking walking. Pats has a vast knowledge of the history of Portugal and I wish I had recorded our talk. Seriously, I have taken tours before but this tour was way way above any of the rest."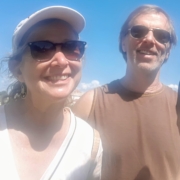 "My wife and I had a private tour with Pats and she was clear, creative, communicative, and very informative. We had a thoroughly enjoyable time with Pats. Highly recommend."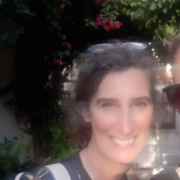 "Amazing experience with Pats
I am looking to move to Portugal & have been looking at different areas around the country. Lisbon is high on the the list. It's a big city & I wanted to find neighborhoods that fit my requirements. This is where Pats came in. She did not disappoint. In fact, she was incredible. The night before she shared her thoughts with a map of Lisbon (and other areas too) and the next day we met and walked over 9 miles. She chose areas that fit my criteria & was a wealth of knowledge about each one with a history lesson about the neighborhood & Portugal. It helped to create an authentic vibe of each area. Pats is also a great person and I loved chatting with her about all things over coffee, Pastel de Natas & a glass of wine. She went above & beyond and I left with a great sense of the city & life there before wandering on my own. Lisbon with Pats is a fantastic service for touring & learning in a fun & educational way. You will love every second of your experience with her! Thank you Pats! You are amazing."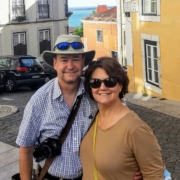 "We had an amazing day with Pats. She had answers to all of our questions, but, more importantly, she helped us to experience Lisbon. We ate a specialty pastry and drank sour cherry liqueur from a boutique maker. We saw wonderful views over Lisbon.
Pats also understood that my husband and I like to experience tours differently. I like lots of info and history. My husband is a photographer so he enjoys talking photos of spaces. She never rushed him or us. In fact, our lost luggage arrived while on tour, and Pats was able to accommodate us.
All of her restaurant recommendations were also just what we wanted.
I recommend Lisbon with Pats."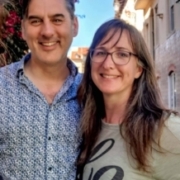 "We had an amazing two full days of touring Lisboa and Belem. We feel we saw so much more of the city than we possibly could have on our own. Her suggestions for spots to eat or just to enjoy a glass of wine while looking over the city were top notch.
She took our interests and preferences into account and create the perfect bespoke tour for us. Communication before and during was excellent. Plus she is such a lovely person to be around- like having your new friend show you her favorite things. Her passion for the history and culture of Lisbon is quite evident. Highly recommended!!!!!"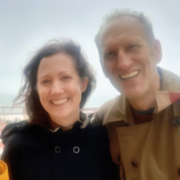 "Wonderful walk through Lisbon
Pats is a knowledgeable and fun guide. A great way to get to know the city and learn about its history."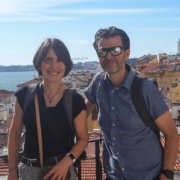 "A wonderful first experience of Lisbon with Pats
With her vast knowledge and passion for the culture and history of Lisbon, Pats was able to design a bespoke tour that exceeded all expectations. The knowledge she was able to share in such a short time was invaluable and helped us refine our itinerary for the rest of our trip. Wonderful!"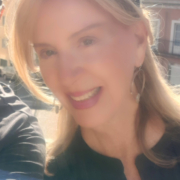 "This young lady shines just like the sunlight.
Enjoyed 2 spectacular days and evenings walking the streets of Lisbon with Pats.
She is someone you must connect with while visiting Lisbon. Check out her website that includes virtual tours, a menu of private guided itineraries, stunning photography and magnificent storytelling on Facebook!"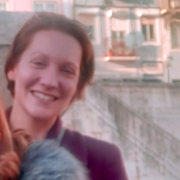 "Highly personalized historical tour
Pats is the best for people who want a customized tour experience. My friends and I wanted to know more about Campo de Ourique and Estrela, neighborhoods that aren't part of the typical tourist beaten path. Pats was very prompt to reply and put together a very thoughtful plan according to our preferences. She was really great at anticipating things that would be interesting to us and giving historical context to all of our favorite buildings, streets, parks and, yes, even a cemetery. I learned more about Lisbon in an afternoon than I have in months on my own. Highly recommend!"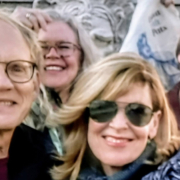 "Lisbon tour – even though we have lived here for a few years
Pats was a terrific tour guide. She was knowledgeable, friendly, helpful and always took the time to answer our questions. She is enthusiastic about Lisbon and fun to be with. I would definitely recommend Pats whether you are visiting, new to the area or have been here for awhile!"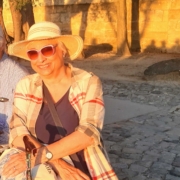 "Customized Lisbon city tour with Pats
We appreciated very much that we could plan a tour of Lisbon that was customized to our interests: history, culture, food, literature, and beautiful views. Pats is a font of knowledge, and can address any and all of these topics and more. Her depth of knowledge is amazing. Pats has an engaging personality and a great sense of humor. It's a long day with lots of walking, but so well-worth experiencing with Pats."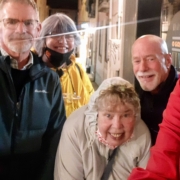 "This was the most informative tour of lisbon. We went from one site to the next, with breaks in between. The tour and history lessons were absolutely perfect.  I would highly recommend Lisbon with Pats. Thank you for an unforgettable adventure…."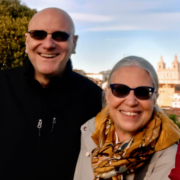 "We just spent two amazing days with Pats in Lisbon where we saw and learned so much from her! History, art, local culture, fun facts and off-the-beaten-path gems: Pats knows them all!! From peacocks on castle walls to Fado melodies in a hidden alley – Pats revealed Lisbon in interesting and unique ways."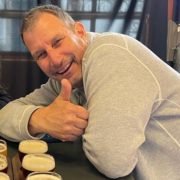 "Unforgettable Locals Tour of Lisbon
Patricia delighted us with a tour unlike most in Lisbon – taking us to a stunning neighborhood with no tourists, to dine at a locals food market and soak in architecture and history that you won't find in the Rick Steven's or Lonely Planet guide. She added a fascinating cemetery tour that is reminiscent of the one in Recoleta, Buenos Aires and capped it with a tram ride where unlike everyone else, we didn't have to wait in line or cram into this notorious sardine can of Lisbon tourism. She blew us away with her insider secrets of this amazing city and can't wait to return!!!!"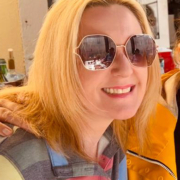 "Pats: the wonderful, humorous, walking encyclopedia of Lisbon! Take one of her tours! You'll love every minute…
Pats is wonderful! We took a day-long walking tour of Lisbon with her to check out this beautiful city's incredible architecture, learn about its history and soak up the vibrancy of colours that shroud this city in beauty, culture and happiness! All day, Pats provided infinite facts, dates, names, historical events … She is a walking encyclopedia! It was emphatically obvious in how planful she was in tailoring our tour, every step anchored to our wish list and communicated very clearly ahead of time! I honestly can't wait to do another Lisbon with Pats Tour! She's beyond amazing, excellent command of the English language, humorous in so many ways and makes you feel at ease and excited from minute one of her tour!"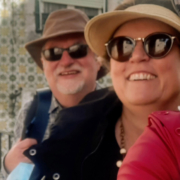 "Great Experience, Great Guide
Pats is truly a great guide with a vast amount of knowledge of history, local information, architecture, food and everything else. Also a very nice person. We had a one day tour of Lisbon to get familiar on our first time and it could not have been better than to be shown around by Pats. I cannot recommend her enough. Do not hesitate to book with her, and I strongly encourage you to spend time with this intelligent, engaging and friendly person."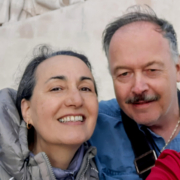 "Great day with Pats!
Pats taught us so much about the history and culture of Lisbon. She guided us to wonderful meals and experiences even outside of the day of our tour. We strongly recommend her tour to all Lisbon visitors!"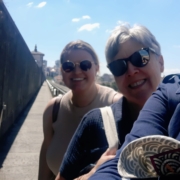 "We had a wonderful half-day tour with Pats. Her knowledge of the city coupled with her humor was a perfect combination. She thoughtfully designed our tour around a specific interest which we really appreciated. We highly recommend her for anyone looking for a personable, knowledgeable and fun tour guide while in Lisbon. Thanks Pats!"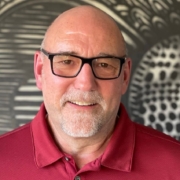 "Food and Wine Walking tour with Pats
Three friends and I had an outstanding day with Pats visiting markets, restaurants, neighborhoods and the wine tasting. Pats does not do a standard tour but customizes the tour to your interests. She also adds in history of Lisbon as you go through the city. She adjusts pace to the abilities of all in the tour. We thoroughly enjoyed our day with her and would highly recommend her of a great day in Lisbon."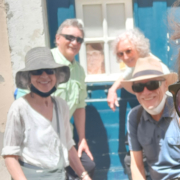 "A day with Pats in Lisbon is a day well spent. What makes it extraordinary is not that she knows anything that you might want to know about the city, area and country, but that she is totally focused on how the experience is being received by you, the customer. She is able to adjust on the fly, speed up, slow down, whatever might work best for you. She does it in a way that feels like you're with an old, dear friend… nothing forced, just a very natural flow of events. Our group of four learned a great deal about Lisbon and the Portuguese people. We left with great memories of our time spent with Pats in this beautiful and interesting city."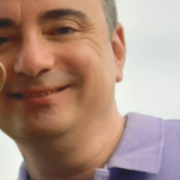 "History mixed with fun and food in Lisbon!
Terrific afternoon in Lisbon with Pats! We met in the city center for a 5-hour journey through Lisbon's and Portugal's history, walking through the alleyways of old city, stopping to look at hidden passages and gems, munching on delicious snacks, and enjoying our only afternoon in Lisbon. If we lived in Lisbon, Pats would likely be a friend. Definitely. She is super knowledgeable about her country, and is just fun to be around. Can't wait for another trip to Portugal to explore more of this beautiful land with her, and, in the meantime, recommend her wholeheartedly!"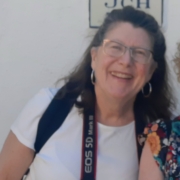 "A friend and I did a one-day tour in Lisbon with Pats. It was one of the highlights of our two-week holiday in Portugal. In planning our day, Pats heard and responded to our requests. She's friendly and funny. Again and again, she impressed me with her fountain of knowledge about her city. We went to places that gave us a slice of life in Lisbon that we absolutely would not have found on our own. I highly recommend engaging Pats to help you learn about Lisbon."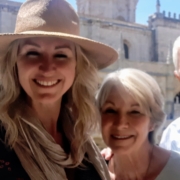 "Highly Recommend! Wonderful time!
You will love any tour with Pats! From the initial email correspondence, to a quick questionnaire about our travel interests, then a zoom call to discuss the itinerary, all the way through our actual tour: Pats was so easy to work with. Professional, kind, and fun. I would recommend her for all ages and interests. It's clear that she knows Lisbon from so many interesting angles and topics. For this visit to my favorite country, I was joined by my parents (ages mid-70's) and my sister. It was a balancing act to meet the wants/needs/limitations of all, but we had a marvelous time, largely thanks to Pats and our tour with her. She really maximized our time, and we loved getting her local perspective, not to mention all the incredible history and information she shared with us. We had limited time for a tour, so we booked a half-day tour focused in Belém. We learned so much from Pats and enjoyed her company as well. Truly, the time just disappeared. We wish we could've spent a full day with Pats, or even multiple days on her various types of tours. Muito obrigada, Pats! It was a pleasure. We hope to see you again soon."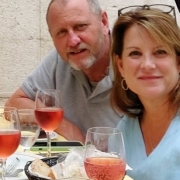 "I wish I could give Pats 10 stars!
She took the time, prior to our trip, to survey and interview us each to tailor our experience. With SO many wonderful options, she honed in on a flexible itinerary to match our preferences. Her depth and breath of knowledge, fun and energetic personality, and true love and pride in her country made her the perfect guide for our own introduction to beautiful Lisbon. Obrigada Pats! We will be back!"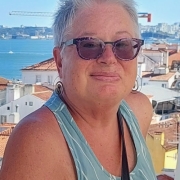 "This was the best tour ever! Pats has so much knowledge of the history in this city. We walked two solid days but I didn't want to stop. My favorite was the visit in the cemetery. It is beautiful to just walk through but Pats knew the story behind every mausoleum and tombstone. If I could give her ten stars, I would."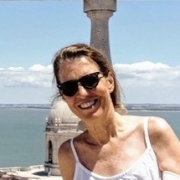 "I took four tours of Lisbon, being an over achiever, and this was my favorite. Pats is passionate about Portugal and really knows the history. Most importantly, she makes it really fun. We loved our tour of the monastery and highly recommend that. We also walked around Alfama. We spent about four hours and it was never boring. She talks about the monarchy and you get a real feeling who they were as people. Stopped for pastries and coffee. We did a private tour with two people which was perfect for us. She very, very willing to customize the tour which is nice. We didn't know what to ask for at first and left a lot up to her. That worked out! Again, highly recommend."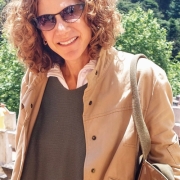 "Pats is a GEM! I arranged to spend a full day with her. The tour began few weeks prior in Dallas with a call to meet each other and discuss what I wanted to accomplish. She took the time to learn about me, my preferences and tastes. She sent a detailed itinerary and then we edited from there. My day with her was fantastic! I got a comprehensive overview of Portugal. She introduced me to neighborhoods she thought I might like and they are on my list to revisit and explore more in depth. Churches are not my thing but I'm glad she included two of them. The history she provided was priceless. I felt like I was on the true Portugal "insider" tour. We ended the day with a glass of wine and a list of bars/restaurants to visit on my own that she felt would resonate with me. I have another day booked with Pats to Sintra. I can't wait! I have done group tours before, never a private tour. This is the way to go. Not only did I find a fabulous and knowledgeable guide, I feel like I have a friend in Portugal."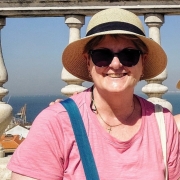 "Very personable, genuine and knowledgeable
We wouldn't want to see Lisbon, Alfama in particular, with anyone other than Pats. A few days before our tour we zoomed so that she knew exactly what we were wanting. And she delivered! She went at our pace never making us feel rushed and gave us many options through out the day. Pats took us to some wonderful out of the way places as well as the famous places. She was also kind enough to to give us suggestions, at our request, for the rest of our stay. We signed up for the full day tour and she was with us a FULL day! She represented her country beautifully, telling wonderful stories and history. She made us laugh and see the beauty of Lisbon and it's people! We will remember Pats fondly for a very long time!"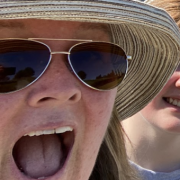 "Our first tour ever, and will be hard to beat!
We'd been referred to Pats so many times that we decided to go for it. The experience was great right from the beginning – Pats is very communicative and friendly. She really wanted to know what interested us, and she crafted a half-day tour for us. Pats is really friendly and an enjoyable person to be around. We now live in Portugal and are planning to do other tours with her in the future."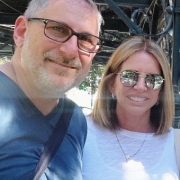 "Great Introduction to Lisbon
Pats was awesome. I loved how we worked together prior to our arrival to plan the perfect day in Lisbon. Pats created the perfect itinerary for our needs. She was knowledgeable and took us to some great places. We felt like we were spending the day with a good friend. Pats also has a great sense of humor. We loved our day with Pats."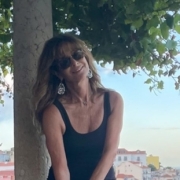 "Pats goes above and beyond to provide you with the perfect customized experience! Our experience began with a preference selection form several weeks before our visit. Pats really listens to your interests and devises a personalized tour just for you. We thoroughly enjoyed every moment of our time together. Pats is an amazing host and we appreciated her time, effort, warm personality and her humor. We felt as though we were exploring with a dear friend. Even after our tour, Pats was readily available to answer questions and provided us with amazing recommendations for meals and Fado. Thank you Pats, this was a highlight of our visit to Lisbon!"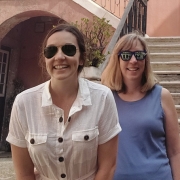 "Pats was recommended to us by friends, and touring with her was a fantastic experience. She sent us a detailed survey to discover our interests, then planned an itinerary and submitted it to us for review. She even provided the weather forecast for the day and the cost of each site we wanted to visit so that we could plan accordingly. She met us at our accommodation and walked with us to our planned sites. She checked with us throughout the tour to make sure we were ok and seeing what we wanted to see. In addition to sites she included a snack stop and a drink stop so we could learn about local food and drink. She was so organized and easy to work with and a pleasant, knowledgeable companion for the day. Highly recommend!"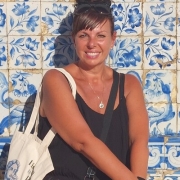 "I really enjoyed my tour with Pats, it was very informative, she really knows her history. She is a delightful person and a very professional guide. I would recommend her to my friends and family anytime!"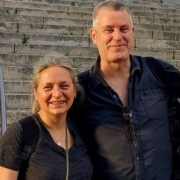 "Lisbon with Pats is a great tailored tour of Lisbon that the whole family truly enjoyed. Would highly recommend doing the tour on the first day of the stay as Pats has loads of recommendations of things to do and see. Thank you very much Pats!"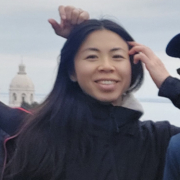 "Pats was very attentive for the duration of her tour with us and she went above and beyond to ensure we had a great time! Her English is great for non-native speakers who may have difficulty understanding a stronger accent."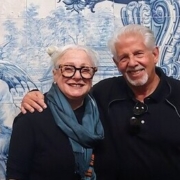 "Pats made our days in Lisbon so much more wonderful with the knowledge gained during our full day tour. Pats created a custom tour based on our interests of art, tiles architecture and wine. We explored under the radar spots and navigated the city without climbing too many hills. Her love of the city and knowledge of history enhances the day. We would highly recommend Lisbon with Pats!"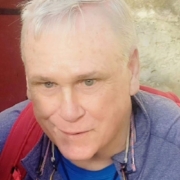 "Pats has a unique way to tailor "A Tour to You" She asks you questions about what your past travel experiences have been like and what you expect to get out of visiting Lisboa. From my perspective she does a marvelous job in tailoring a trip to you. Every step of the way Pats pointed expected facts and interesting tidbits! As we worked our way up to Castle St Jorge Pats asked, if I wanted to go inside St Anthony's Church. My middle name being St Anthony I said yes! The views of all of Lisboa from the Castle St Jorge were spectacular!! Pats explained the true meaning behind a "Treason Door", but you'll have to go on a tour with Pats Tours of Lisbon to hear that answer!! If you're going to Lisbon consider using Pats Tours of Lisbon to get a true feel for this great city and its people (like her!)"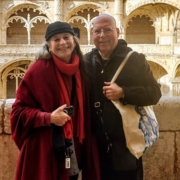 "A friend recommended "Lisbon with Pats" as a tour guide for a visit to Lisbon for my husband's birthday. That recommendation turned out better than I had imagined!
Pats isn't an ordinary tour guide. She specializes in customized trips and walks to meet the interests of her guests. Pats provided history and background information on all of the points we visited and the points in between. Her descriptions went beyond what I expect from a travel guide. She had in-depth knowledge to share including many facts that we didn't find in our pre-trip research and she answered all of our questions.
Pats is a certified tour guide in Lisbon. As a result she was able to get us into some historical locations before public opening hours and with no lines.
After our tour she provided excellent recommendations for places to visit on our own. In all, my husband and I had a wonderful tour and enjoyed meeting and exploring with Pats. We look forward to exploring with Pats again when we return to Lisbon. I can't recommend her highly enough."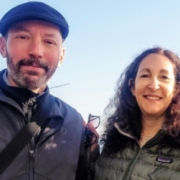 "We had limited time in Lisbon and arranged a day tour with Pats and a second day in Sintra, Pats was great. She is fun and informed and we made an itinerary in coordination with us to focus on cultural areas of greatest interest to us. We did a lot of walking which was our preference and covered a lot of ground and got a sense of the city on day one, as well as seeing a lot of important sites in several parts of the city. And we also covered a good bit of Sintra on day two which without a guide might be a challenge. Pats knows the city history and can answer all sorts of questions about day to day life in the city as well as the history of the sites you will see. Definitely made our visit more informed and interesting and fun than it would have been otherwise. She also had good suggestions for how we could spend our evenings and free days on our own."
"Tailored to a tee
Pats met with us before via a call to get an idea of what we'd like to see which we'd not had experience of before and was really helpful. When we lingered or changed our minds on the day she was was also flexible and knowledgeable enough to quickly adapt around us. She kept giving us a great day as the plan altered (also really helpful and why I've no hesitation around the five). The insider tour of Alfama away from the crowds was a highlight."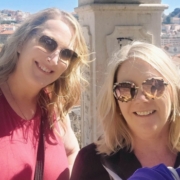 "We enjoyed a fabulous day seeing the sights in Lisbon with Pats — she is an amazing tour guide and made the day extra special with her attention to detail, flexibility, and friendly, engaging personality! We targeted our tour on architecture, key sights, history, wine and food. I think we were close 18000 steps by the end of our day! Some fabulous tasty treats and some great stores that we wouldn't have known about without her expertise! She also is flexible which ended up working for us because we got sidetracked a lot on our day! I look forward to getting more tours with her on another trip to Lisbon – best way to see the city!"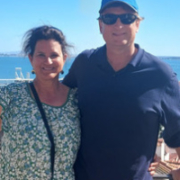 "Pats was an awesome guide. She asked us to fill out a survey of our preferences before the tour. She then catered the tour to our desires to see cathedrals and other older parts of Lisbon, as well as to our level of fitness. She was informative, had extensive historical knowledge, and was very entertaining and fun. She allowed us to choose our pace and how long we wanted to stay at each location. Without Pats, we would have spent hours lost in the maze of ancient streets and alley ways. Contact her and she will design a great tour for you based on your preferences."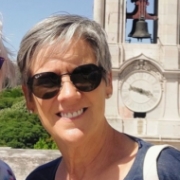 "Loved the walking tours through Lisbon! You get to see, smell and taste the city in a way you can't from a bus or even a car. Seeing and interacting with the local people as well as some of the national treasures (tourist sites) is the best way to experience Lisbon. Pats is a wealth of information – history, legend, food, shops, etc. You name it, she will take you there and love every minute."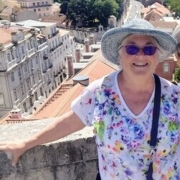 'Pats walking tours are wonderful! Walking is the best way to see and be immersed in Lisbon. Pats knowledge of the history, culture, sights to see (well known and less well known), various neighborhoods makes walking the city a delight. Every tour was a wonderful and informative experience – The Alfama, churches, street art, beautiful tiled building, pastries, gelato, food markets, parks, Sintra and more were all a part of the various walking tours. Pats provided a personalized experience and served as a great resource throughout our stay, even on days were were not on tours with her. When I go back to Lisbon I'll be doing more tours with Pats.'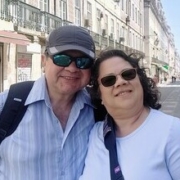 'We enjoyed Lisboa with Pats on our first trip to Portugal. My wife and I were looking for a local guide to introduce us Lisbon from a local perspective, at our own pace, and focusing on our individual interests. Pats was a perfect fit for us! She adapted her well-targeted itineraries to our needs and interests, which were shifting a bit during the day as we were getting tired. We walked a lot, we learned a lot, and we had some good laughs as well. Be ready to walk a lot and keep in mind that Lisbon has cobble stones all over, and many stairs to climb. We recommend to include meal stops and indulge your party (and your tour lady) to the many wonderful flavors of Portugal. We also visited some near towns, in addition to Lisbon. We highly recommend her services! Great value for amazing new experiences!'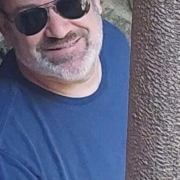 "Lots of history, lots of laughs and an amazing City!
Pats curated an amazing several days for us to explore the beautiful city that is Lisbon. She was knowledgeable and prepared. We spent 1.5 days in Lisbon and a day in Sintra. Aside from her aversion for air conditioning in the van we had an amazing trip! Pats was thoughtful and flexible understanding our family dynamics and priorities! Yes, young adults do get Hangry! From Wonderful beachside seafood to the best gelato, we ate and explored and have Pats to thank! Do see this vibrant and historic city that is Lisbon and let Pats guide you!"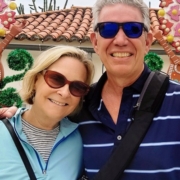 "Pats is the best! 10 Stars
We love Pats!! I would give her more than 5 stars. Her knowledge of Lisbon, Sintra, the coast and the history of Portugal are amazing. She is very engaging and makes history come alive. She shared great spots to eat fresh seafood, enjoy a little ginjinha, and grab a Nata. We ran into strikes, holidays, you name it and she never missed a beat. Pats is fun to be around and we throughly enjoyed our time with her. She makes a beautiful city, with a complicated history come to life. We hope to return soon."
"Pats gave us a fantastic introduction to Lisbon for our first visit. I was in Portugal with professional colleagues for a conference and had only limited time for sightseeing before and after the meeting. Based on a friend's recommendation, I connected with Pats and arranged for three half-day tours. Interacting with Pats was super easy: quick responses to initial emails to set up the days and tell her our preferences, then a video call to discuss specifics. She is friendly, funny, very knowledgable and extremely flexible about logistics. All tours were a lot of fun, especially the out-of-the-way tidbits that she showed us that really brought out the charm of the city and its people. She knows Lisbon and its history well and is great at sharing her love for the city. She also gave us fantastic recommendations for restaurants. Couldn't have asked for a better guide."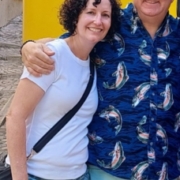 "Our group was able to see so many beautiful sights that we otherwise would not have known about or been able to get to. We were so lucky to have the opportunity to experience a driving tour on one day and a walking tour the next day. Pats is so much fun to be with and has an incredible knowledge of the history of her country. She made our trip to Portugal even more memorable!"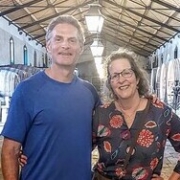 "What do you want most from a tour guide? Is it excellent planning, suggestions and communication as you are planning your visit? Is it a deep knowledge and appreciation for the local culture, history, language and cuisine? Is it confident English fluency that makes the little things easy? Is it that combination of sweet temperament and take-charge attitude when things don't go exactly as planned? Is it attention to every detail (pickup and drop off times, advance tickets, timing between activities, personal preferences and physical limitations)? If these things matter to you, you want to book with Pats. Our all day tour of Sintra and the coastal region of Cascais was a real pleasure, and our second tour with Pats. Highly recommended."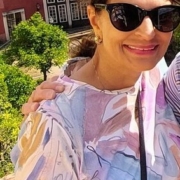 "If you are faced with the dilemma of selecting a knowledgeable, articulate, and historical walking tour of Lisbon, look no further! Pats is a delightful fountain of information with an insider, custom created tour for each of her clients expressed interests. We spent 4 hours visiting venues that are off the beaten track, as well as many of the "best" non-tourist, cafes, wine tasting, and retail establishments. Pats has a keen interest in history, which she shares with her wry sense of humor, and warm personality. We hope to see more of her beautiful city on our next visit, knowing we will be enriched with Pats' expertise, and we know that she will be the first person we contact for more of hidden Lisbon. Obrigada Pats!"