Hello, my name is Patricia. But you can call me Pats.
I'd love to be your cultural tour guide during your visit to Lisbon. I'm an independent registered tour guide that strives to discover all the hidden gems of this beautiful city.
Over the years, many national and international friends or friends of friends have asked me about what to do, where to go or eat in Lisbon for a truly authentic experience.
I discovered not only did they appreciate my tours and recommendations; I really enjoyed the experience of guiding people through the city, sharing my abiding love, knowledge and appreciation for a place so rich in culture and history. My city. My Lisbon.
So it only seemed natural to create Lisbon with Pats, an opportunity to give and share with more people, helping them explore their interests in my enchanting city.
Whether it's sight seeing, walking tours, a guide to historical sites, hidden gems – something Lisbon specializes in, to unique and memorable food & wine experiences, or a desire to attend cultural events, from an insider's perspective, my service will enable you to experience the best of what Lisbon has to offer, tailored to your interests and preferences.
I'd love to share my city with you!

Private Tours
My service creates private personalized tours in Lisbon according to your interests, preferences and tastes.
Being a long time resident, I will introduce you to some of its many secrets and stories that are not seen, told or available to the casual visitor/tour.
I will provide you with a list of wonderful choices based on your preferences. Once you've identified your interests, I will prepare a delectable experience that will make your visit to Lisbon exciting, fun and unforgettable.
What can we do on Lisbon with Pats?
Sight seeing – Castles, Palaces, Monasteries, Monuments, River Tejo, Viewpoints and more.
Visit unique historical and cultural sites across this ancient city
The Hidden Gems of Lisbon – and there are hundreds!
Food & wine experiences – a palate changing experience
Cultural events – Exhibitions, Concerts, Workshops
Shopping – the best places to get special articles
To give you an idea, here are just some of the themes my clients have selected on Lisbon with Pats tours: 

First Visit to Lisbon
Lisbon in Tiles – A celebration of the unique Azulejos (glazed tiles)
A Brief History of Lisbon – From the Romans to the Moors to modern day Lisbon
Exploring the picturesque neighbourhoods of Lisbon
A Taste of Local culture and all its delights
Understanding the Age of Discovery and how it changed Portugal and the world
The Lisbon Earthquake of 1755 – a groundbreaking change
Dictatorship of Salazar (Estado Novo)
Modern Lisbon (how the city changed in the 20th Century)
The Portuguese Carnation Revolution of 1974
A Taste of Contemporary Lisbon
Historical Tours to Specific Neighbourhoods of Lisbon
Prazeres Cemetery, Lisbon's Most Famous Historical Cemetery – Art, Architecture and Society
Grand Tour – Art, History & Architecture
Sintra's Glorious Charm
Cascais, The Portuguese Riviera
Knights of Templar
Live Virtual Private Tours
For those of you who want to have a peek preview of Lisbon or can't wait to travel, I'm offering live virtual private tours of seven different neighbourhoods in Lisbon, Portugal:
1. Alfama

2. Belém

3. Chiado/Downtown

4. Graça

5. Príncipe Real

6. Sant'Ana Hill

7. Santa Catarina Hill
Amongst many other possible tailor-made virtual tours that can be created just for you.
One hour of Lisbon with Pats, available upon request.
I will be talking to you live on location and tailoring the journey to your questions, preferences and specific requests/observations.
One neighbourhood at a time, we will journey together through Lisbon's history and stories.
Quench your thirst to travel and discover an amazing destination wherever you are in the world!
And why not offering this experience to your friends and family via a Live Virtual Tour Gift Card? It's the ideal present for your loved ones to learn, explore and see new things and, obviously, to have loads of fun visiting Lisbon, wherever they may be.
Lisbon & Beyond: Day Tours Out of Lisbon

Sintra, Cascais, Mafra, Alcobaça and/or Batalha, Nazaré, Óbidos & Tomar
As an extension of my tours in Lisbon, these full-day tours out of Lisbon will allow you to know further and farther about Portugal's rich culture, history and heritage. A day out of Lisbon with door to door service. A tailored experience to your interests and preferences. Please contact me for more details.
At some point in our lives, we are all tourists and there's nothing better, even for the most adventurous, to have an insider to guide you around the city to help you maximize your time and have the most memorable experience.
I'll guide you through the city while bringing history and stories to help you understand this marvellous destination that once was the capital of a world power.
I never take Lisbon's beauty and charm for granted. And I never stop learning!
Whether it's a rare tile collection, a hidden spot in the urban fabric or possibly the smallest shop in the world that for nearly 100 years has been making hand made gloves, it's easy to miss but amazing to discover.
I love the fact that Lisbon, even to me as a local, is a wonderful place to explore.

A city that is truly full of history, culture, stories and hidden secrets that I am delighted to share with you.
1. E-mail me at pats@lisbonwithpats.com, providing basic details about your visit; when you plan to visit, the duration and location of your stay.
2. I'll get back to you within 24 hours (hopefully sooner but I'm worth waiting for).
3. Based on your reply, I will begin to curate your private tour of Lisbon, providing you with a menu of compelling choices regarding things to see, do and where to eat. If you'd like we can book a call, so I can understand fully your needs and preferences.
4. I will develop a detailed plan with "local ingredients" suited to your taste.
Then, we will discuss and fine tune my curated tour tailored according to your interests by email or via phone.
5. The tours start and end wherever and whenever you would like. I will follow your lead, as the tour will be tailored to your interest. And we will proceed at your rhythm and pace.
Prices start from €150 (for a group of up to 4 people).
Options: Half-day & Full-day tours
Lisbon with Pats Tour service is available in English and Portuguese.
Lisbon with Pats Live Virtual Private Tour: from €75 (for a group of up to 10 people).

Lisbon with Pats are walking tours and do not include food, museum entrances or other expenses like bus, taxi or transportation. But you should know that transportation costs in Lisbon are very reasonable.
I recommend you book your Lisbon with Pats tour with as much advance notice as possible.
For your tour(s) enquiries, please contact me by email at: pats@lisbonwithpats.com
Get to know Lisbon with the help of an insider
Receive a tailored experience of Lisbon curated to your interests and preferences
Make the most of your time

No "big groups" or "awkward groups" visits – the visit is just for you

Skip the lines
Focus on enjoying your visit rather than organizing your trip
Non-affiliated with any other tours or private business in the city – meaning that my recommendations will be the best to meet your needs rather than financially incentivized
Get real, live, authentic information about Lisbon – that probably doesn't come in the guides or money can't buy
Additionally, my concierge service is here to help you relax and maximize everything Lisbon has to offer (restaurant recommendations and bookings, Fado shows reservations, local travel arrangements, insider's knowledge tips, etc.). It's my pleasure to enhance your stay here in Lisbon!  It's a service that I provide exclusively for my clients and they fully appreciate.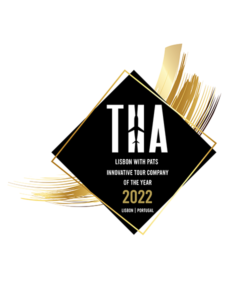 THA Award Winner
Innovative Tour Company of the Year 2022
Lisbon – Portugal